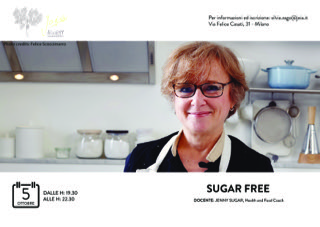 Sugarfree by Sugartree, October 5 at 7:30 pm
Sugarfree by Sugartree on Thursday October 5 at 7:30 pm, is a special class I'll be giving on desserts with natural and whole sugars obtained from fruit. No refined sugars, always fiber in our food, coherent with whole plant based nutrition and cuisine.
We will first learn to prepare these natural sweeteners containing fiber made out of dried fruit and then practically perform three recipes:
– one to make little muffins for kids' (and adults!) snacks
-a second one to make cookies that we can eat raw, dehydrated or oven cooked
– a third recipe which will be a raw Key Lime Pie. There will be a side application of making raw truffles with the same dough used to make this dessert, just adding cocoa to also have a chocolate dessert (always make as much as possible with just one same basic preparation then modifying it into different recipes).
– there will be a last minute "bonus": learning how to make vegetable ice creams that in 5 minutes give us a wonderful sweet afternoon snack or a great dessert on the go.
SO many possibilities and SO much health involved. No refined sugars, just the sweetness and fiber of fruit!!! And….easy to make which is very important too.
To register just send us a mail or give us a call: silvia.zago@joia.it or 0236517551