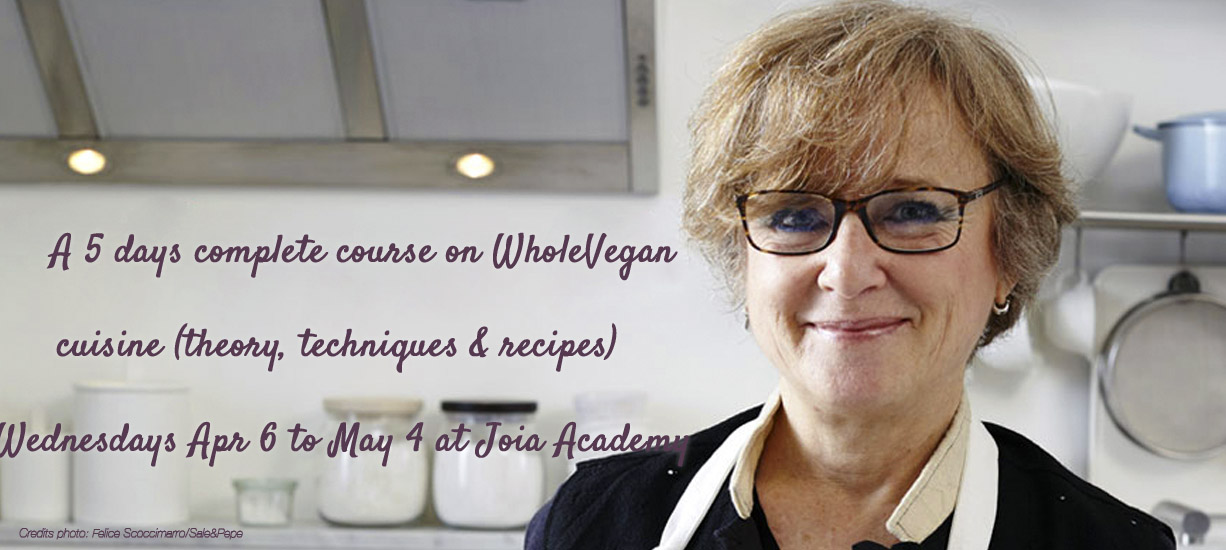 Whole Vegan cuisine complete course in 5 lessons at Joia Academy
Don't miss our Whole Vegan cuisine complete course in 5 lessons at Joia Academy in Milan on Wednesdays from April 6 to May 4.
To try a lifestyle by which eating tasty and healthy can be and actually are the same thing, we offer again a complete course that will enable you to discover this wonderful world. You will master the basic procedures needed to perform independently and with creativity most of the main whole–vegan dishes while becoming aware of the right combinations of foods to build balanced, energetic and healthy menus that bring wellbeing and sustainability.
We will supply basic information to cook in a way that keeps the characteristics of food unchanged as much as possible, creating tasty and delicious recipes that give joy and a sense of feeling satisfied and still light.
We will also dedicate considerable time to truly experiment the recipes while
studying them. At the beginning of each session you will receive a detailed handout and at the end of the evening we will provide you with a certificate of attendance and a small gift.
The course is open to whoever is interested in learning more about techniques and methodologies of a whole food plant based diet. No previous experience is required, only module 1 is requested as ground base for the next 4 lessons.
These are our main goals:
– learn the basics of whole–vegan cuisine, also discussing the principles of raw cuisine
– discover great substitutes for non-vegan products we used before, and find out how to prepare them
– learn new cooking techniques while creating tasty and healthy recipes and menus to take home in a detailed course's handout.
Prices are 90 euro per lesson with a discount of 10% for the set of 5.
We have prepared this complete program of our 5 lessons for you to find out exactly what we will be dealing with. We look forward to having you along!
For further information and registration please contact us at jenny@jennysugar.com or call +39-348.5240608. You can also directly register at silvia.zago@joia.it +39-02.36517551.