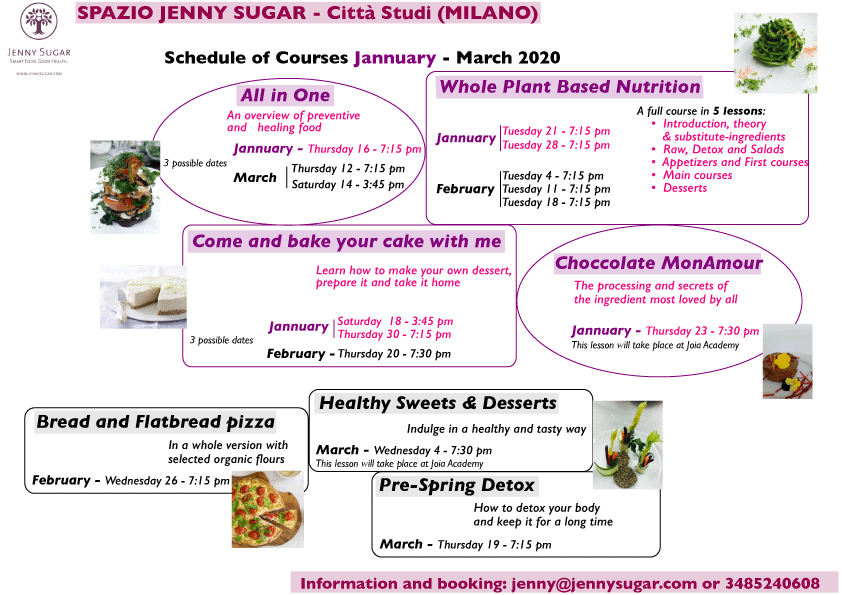 Jenny Sugar healthy courses program, first quarter 2020
I hope you enjoy this program of my healthy courses for the first quarter of 2020.
It will be here, during the Jenny Sugar courses, in a cosy and targeted environment of 3 to 5 participants, that I will tell you about the "magic" of a way of eating that is both healthy and delicious, discovering and learning how varied and easy it can be to cook this way. I offer courses that are very different among each other, to choose according to your interests, level and availability.
One of the courses could also be an idea for an original birthday or celebration gift.
Timetable and Location: 7:15 pm – 10:45 pm in Città Studi, Milan
Cost: 89 euro per lesson including dinner for courses in Spazio Jenny Sugar. For 3 weeks early bird bookings, a 10% discount is granted. With a package of 5 lessons the last one costs half. You can cumulate both discounts aas long as you're within the 3 weeks ahead
Reservations: jenny@jennysugar.com or 3485240608.
You can always ask for additional lessons, themed, private or with groups of your choice. The space is also available for meetings, dinners, team building or any other event that you would like to organize together. Cost and timing of extra activities are to be agreed, from time to time, on the basis of the request.
For further information you can click here or contact me directly. Also for those of you interested in following a coaching path or could benefit from our consulting services in the world of healthy food for a restaurant, bar, ice cream shop, bakery, catering, do reach out and we will surely seek together to find the right answer for you.
I look forward to having you join any of these proposals with the awareness that health is the only true wealth, for us and for the environment we live in.
Best!