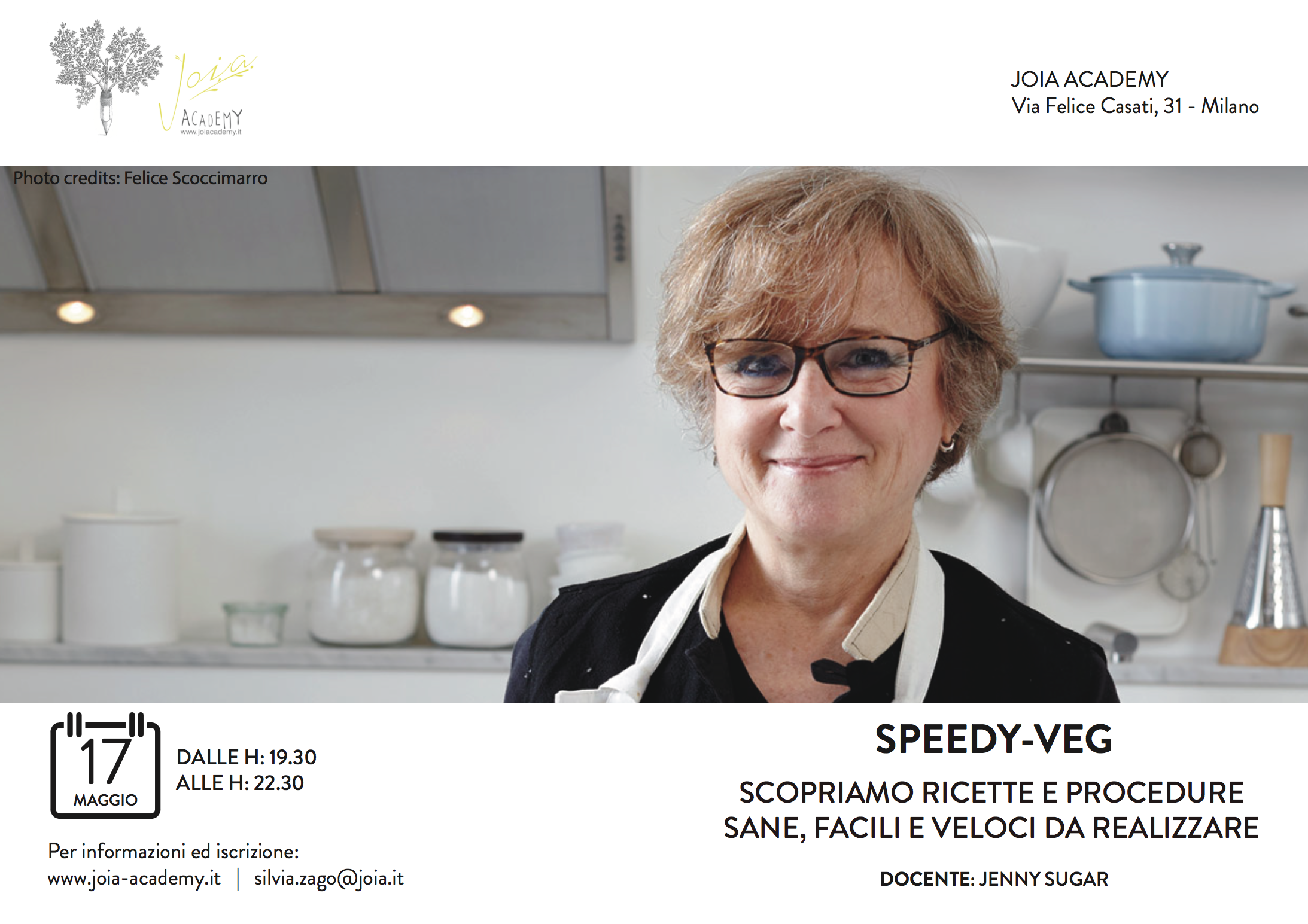 SpeedyVeg, healthy & also speedy cooking class, May 17
SpeedyVeg at Joia Academy on May 17, 2018 at 7.30pm. Meet with Jenny Sugar, Health & Food coach, expert in  preventive and healing nutrition and cooking. A course that will teach us how it is possible to prepare very healthy dishes in a short time, suitable for the hectic life that we often are led to live. Let's live it without giving up health! … health comes with eating, we add: eating consciously.
Many people are afraid that healthy, plant–based cooking will steal precious time from our lives which are already too busy. This will be a lesson of Vegan-Smart & Healthy quick cooking preparations, dishes to be done in a short time, a lesson specifically for us, racing Milanese, in fact SpeedyVeg just how we can become

Bookings are open, it is worth trying because sometimes, the change is there, around the corner, much easier than what we imagined. Guaranteed. Seeing is believing

To register, just contact Silvia Zago from Joia Academy:
silvia.zago@joia.it
02.36.51.75.51
This is the lesson's program:
– Spreadable cheese, based on cashew nuts. We will also learn to prepare a version with less calories. This spread can be used as such for starters and sandwiches, to stir in risottos and soups, as a base for salad dressings, as a base for a bechamel sauce, etc. The secret: soak it!
– Appetizer or pinzimonio? The secret: the looks count too!
– Vegetable soup on the go. The secret: steaming!
– Raw spaghettis with fast low cost pesto. The secret: raw food creativity!
– Fast vegetable lasagna. The secret: whole plant based vegan béchamel sauce and steamed pre-cooked vegetables!
– Instant ice cream, various flavors: dark chocolate, lemon and ginger. The secret: frozen ripe bananas!
–  Three minute truffles. The secret: the courage of an anti procedure!
All these recipes are gluten and oil free!
we look forward to having you